Your Halloween decor won't be complete without a wreath! Although you can buy a readymade wreath, it would still be different if you make it on your own.
When you do it yourself, you are not just having fun. You are also expressing your creativity and you will no doubt end up with something that is perfect for your home.
Do you agree?
Well, if you are a DIY person, you will definitely say yes to that question.
But what if you are not?
If you see this round-up of DIY Halloween wreaths, you might change your mind and start making something right after you see this post!
Come take a look:
1. Burlap Crow Wreath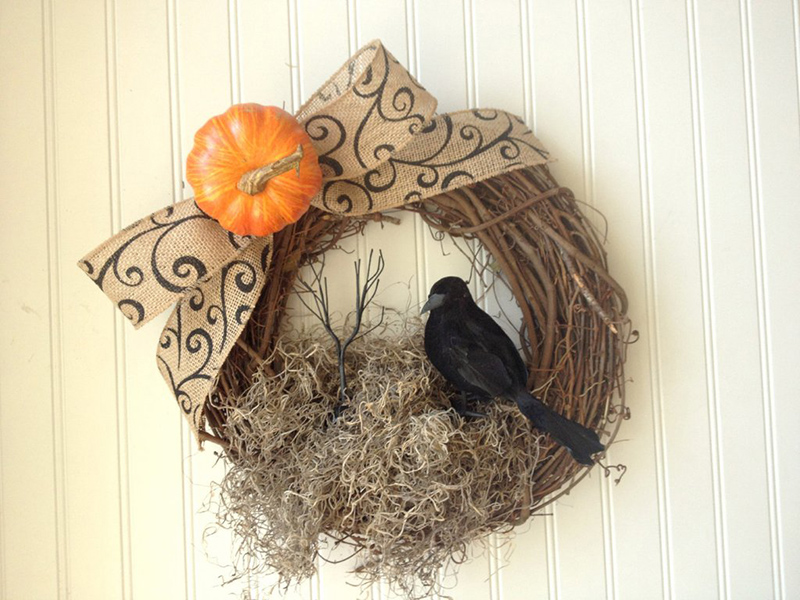 If you want a simple yet striking design, then this is the one for you! It may appear like just a crow on a nest but with the added pumpkin on it, you will know that it is a Halloween and fall wreath in one!
2. Halloween Skull Wreath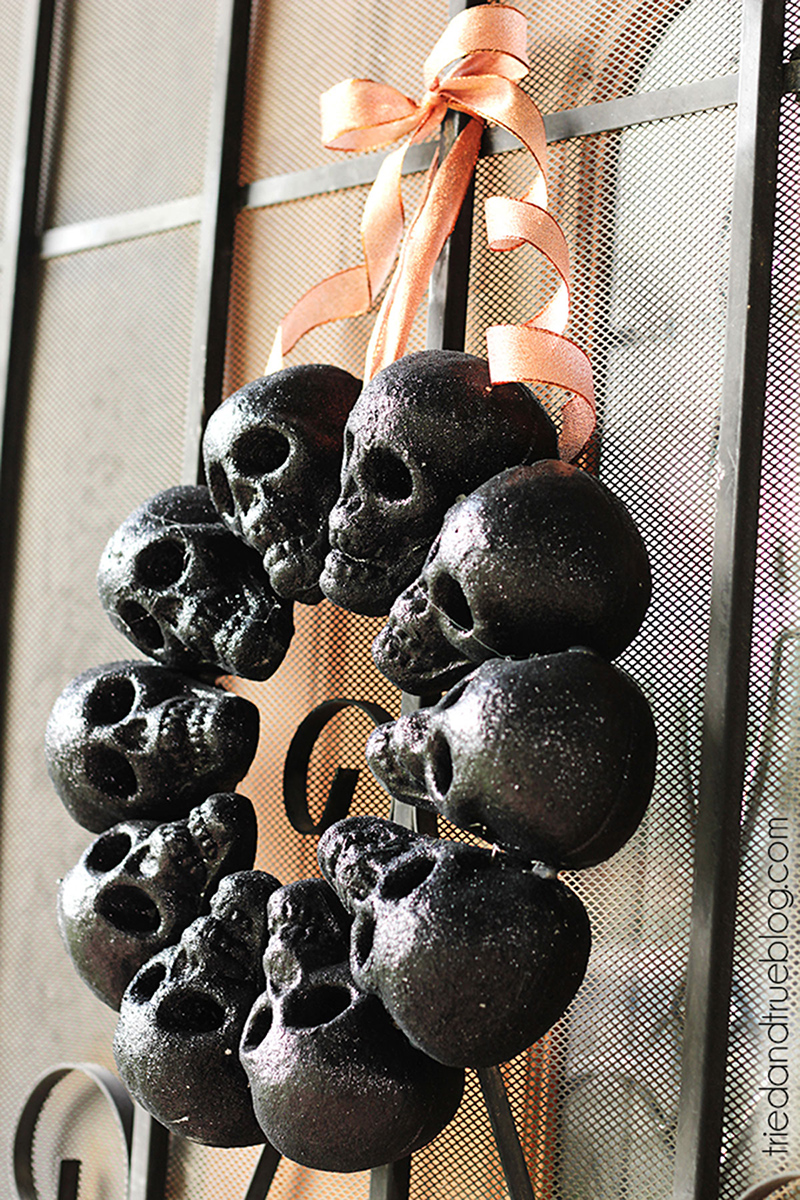 Using Styrofoam mini skulls in glittery black color, put them together in a circle using a tie wire. Then add a ribbon! That simple!
3. Boo Wreath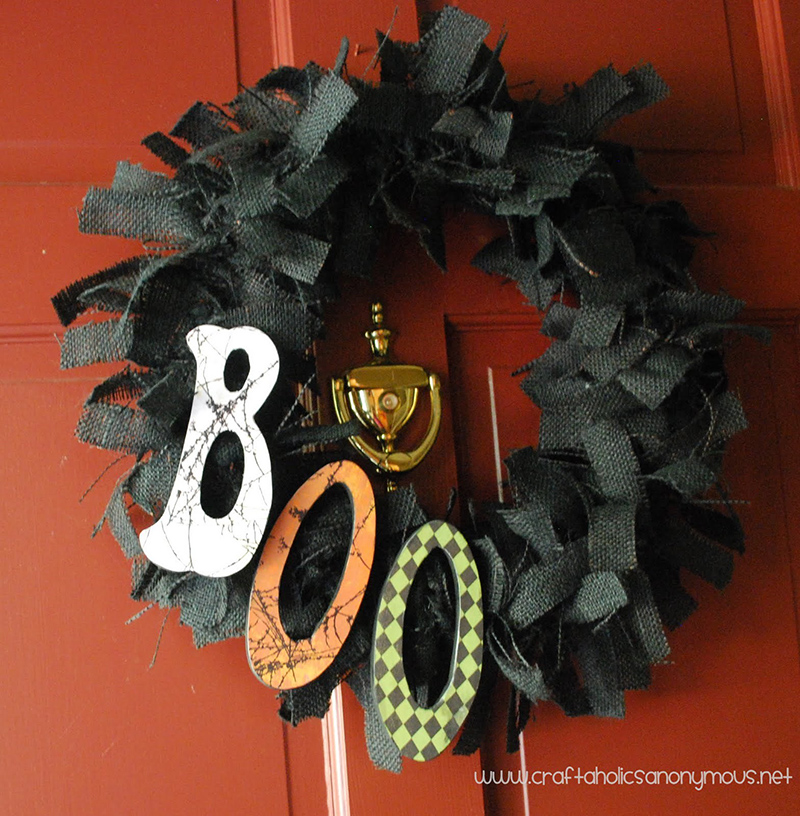 Now tie some black ribbons for your wreaths and simply add the letters B-O-O then you will get this look! You can also add some pops of colors for your ribbons too!
4. Black Lace Wreath
Love the effect of the black lace inside the twig wreath painted in black. It is also a good idea that some gold glitters were added to the twigs and black roses.
5. Chevron Fabric Wreath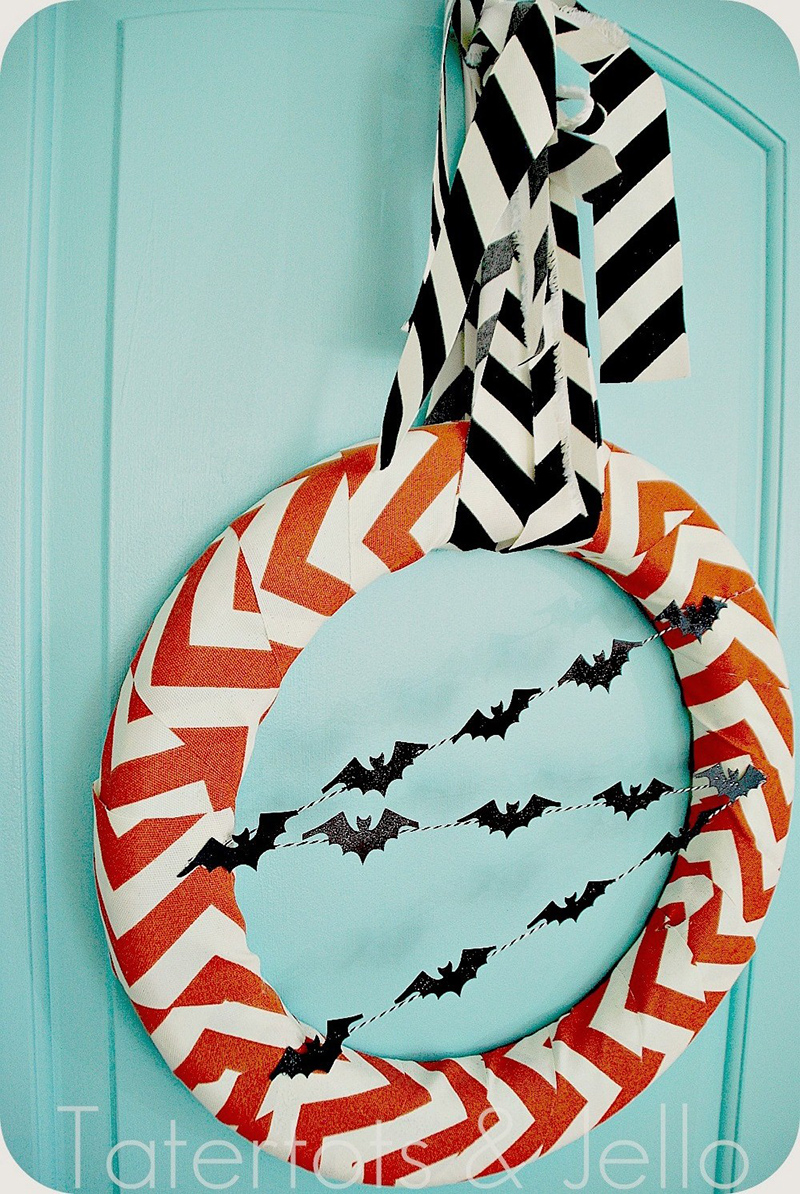 Use baker's twine to string tiny, paper bats through your wreath to add a subtle Halloween touch.
6. DIY Halloween Mesh Wreath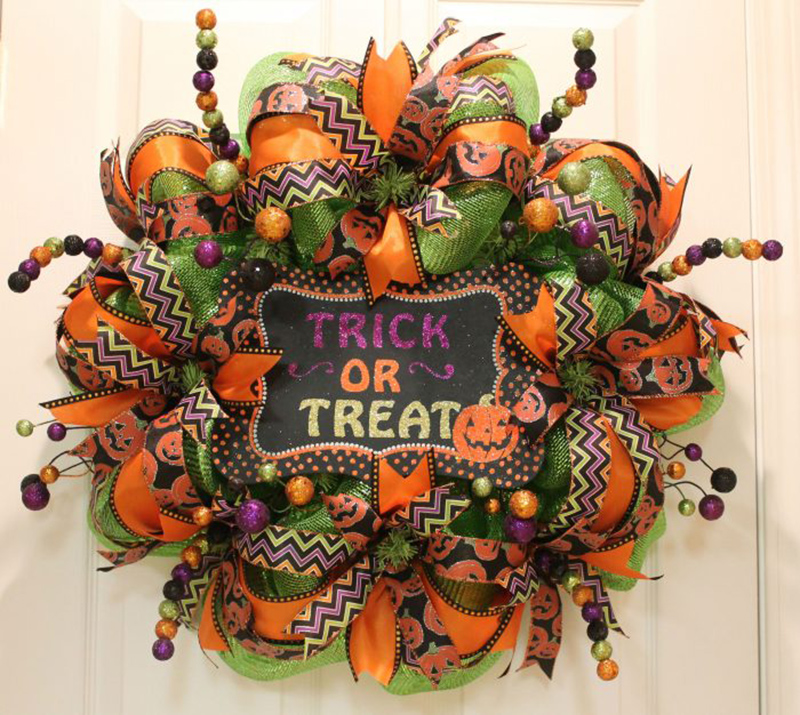 This pretty wreath use a combination of deco mesh and colorful ribbons. Turns out really beautiful especially with the "Trick or treat" sign.
7. DIY BOO HALLOWEEN MESH WREATH
Add a few more tinsel curls to add color around the inside of the wreath and this DIY Halloween wreath is ready to be hung on the door.
8. Halloween wreath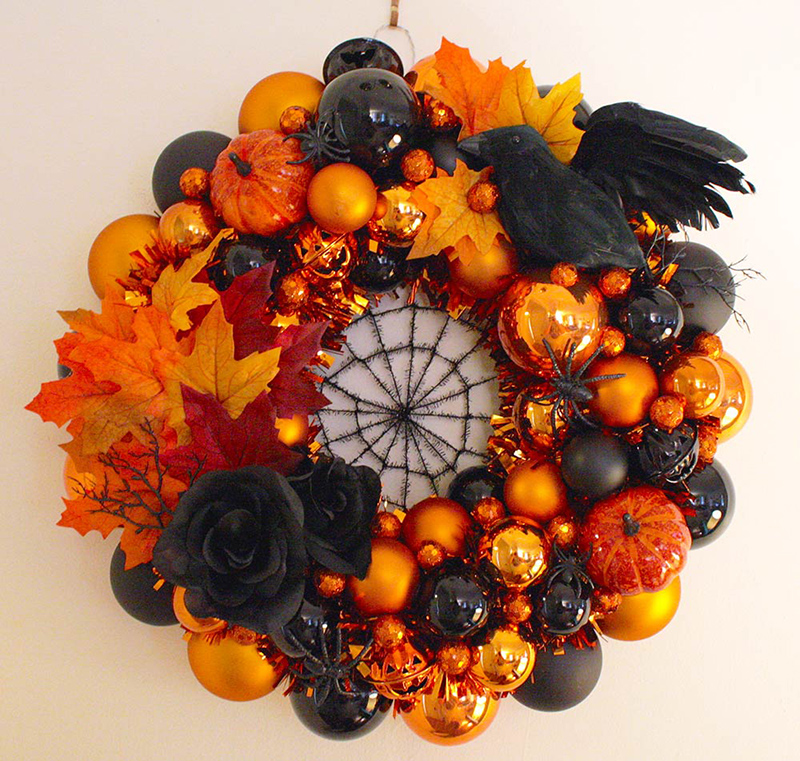 This wreath made use of Christmas ornaments to complete the look. It used orange and black glass ornaments plus mini glitter balls, pumpkins, falls leaves and spiders.
9. TUTU HALLOWEEN WREATH TUTORIAL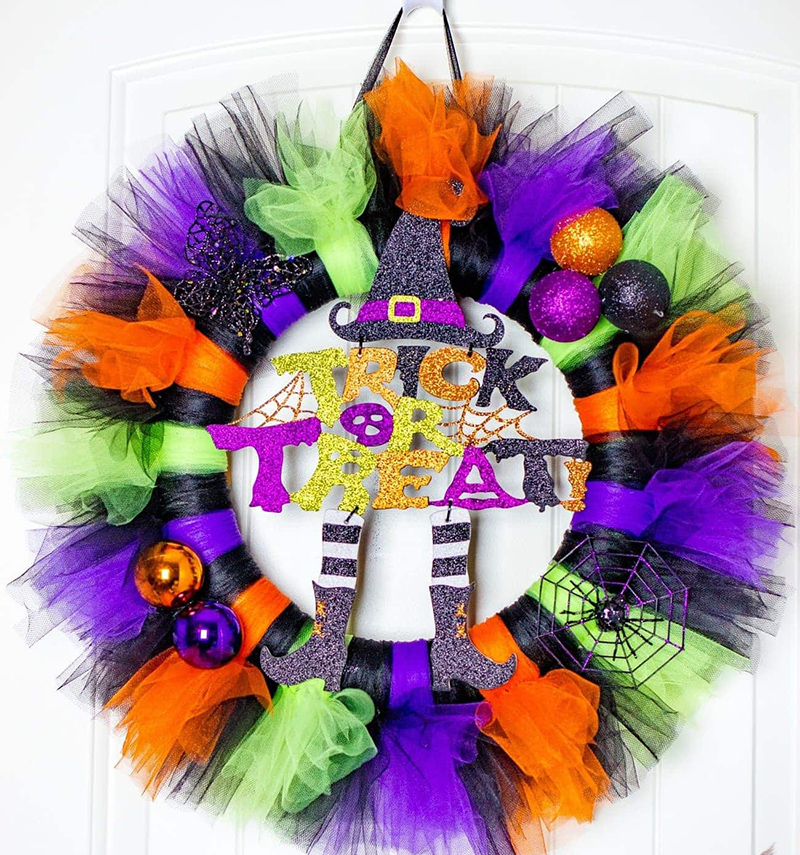 For this one, it simply used black paper bats around a fall-themed burlap wreath. You can even add some carved pumpkins on the steps too instead of a Jack-o-lantern pot.
10. Cast Spell Wreath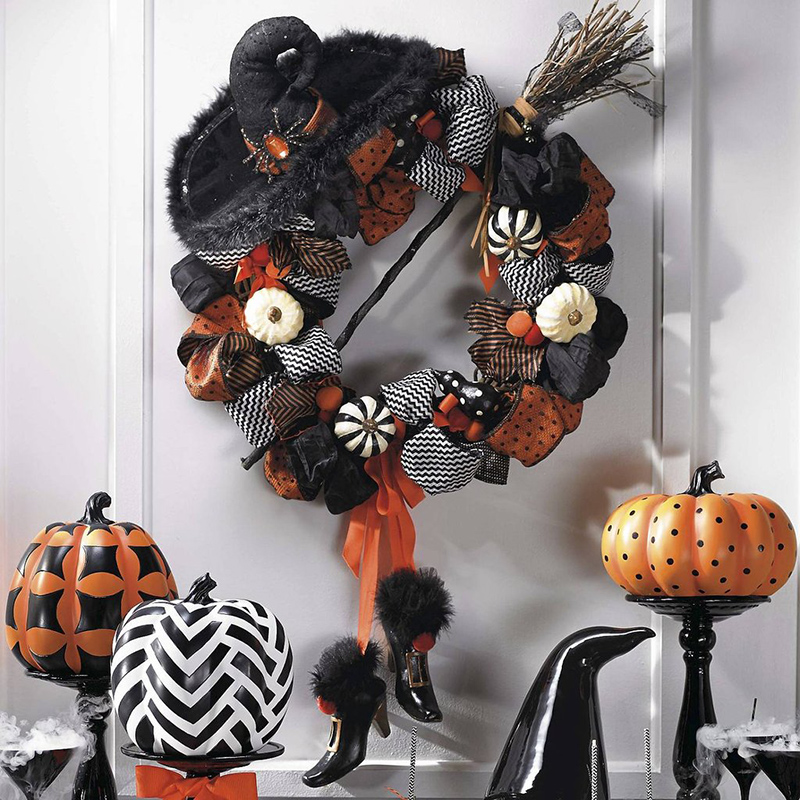 I like the idea of adding some framed plants on the wall. This could use real plants but synthetic ones will also work. For a spooky look, crows are added on the porch as well as a large skeleton which appears like taking a rest in the area.
11. Witch Crash Wreath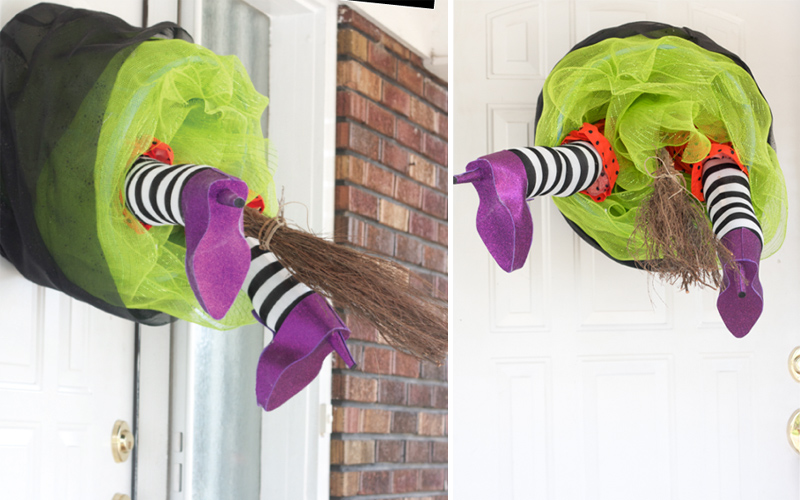 This clever idea will catch anyone off guard. Plus, it's a great way to spook trick o' treaters!
12. Halloween Skeleton Deco Mesh Wreath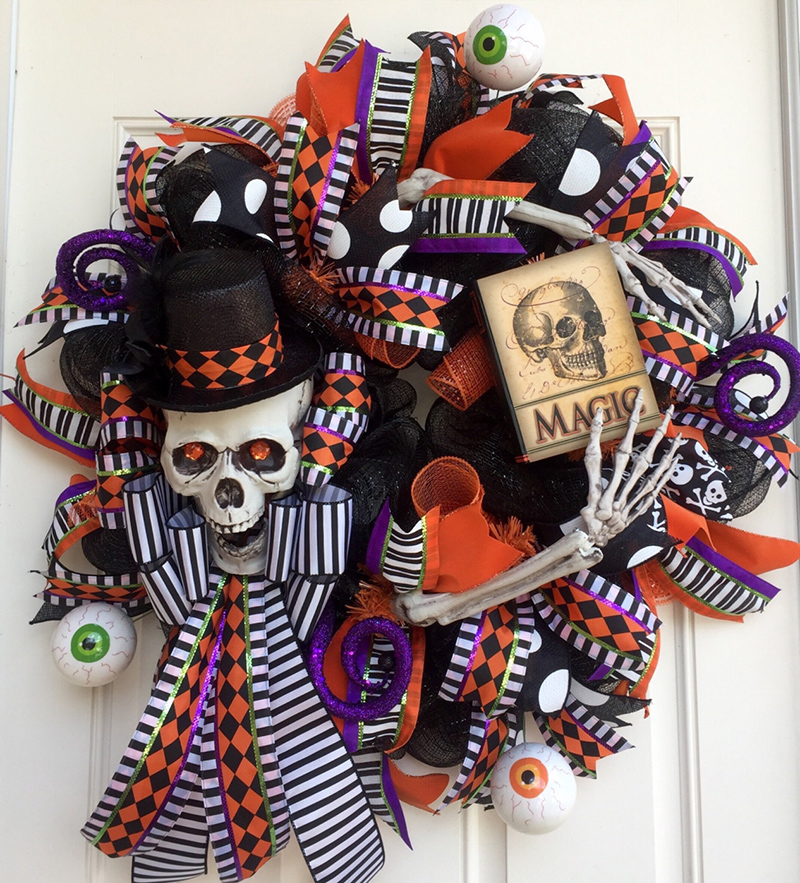 Another version of a festive porch with colorful banners. Isn't that a lovely witch? Even the ghosts around it looks cute too!
13. Boo Spooky Halloween Wreath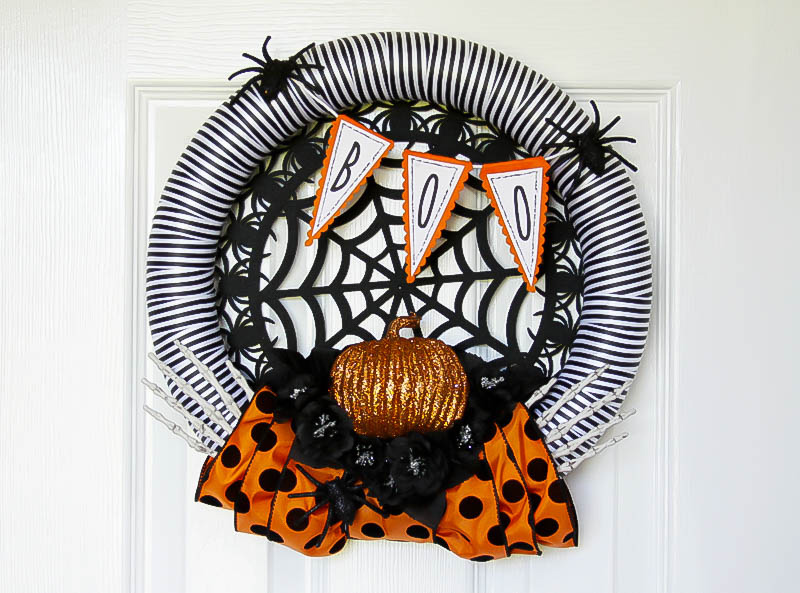 This one looks very nice in black, white and orange! That framed letter W looks attractive too but what I like most here is the black lamp with orange paper inside.
14. Halloween Wreath w RAZ Halloween Elf SBO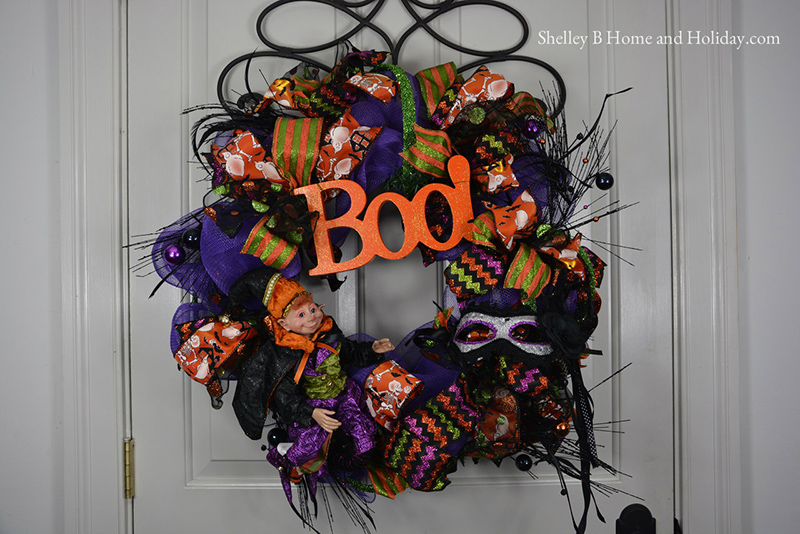 Halloween deco mesh and ribbon wreath with posable Halloween elf. Measures 24 inches x 24 inches. Also holds an orange glittered BOO sign and a masquerade mask with feather, glitter and jewel decorations. A green glittered garland streamer has been secured onto the wreath.
15. Make a Tulle Wreath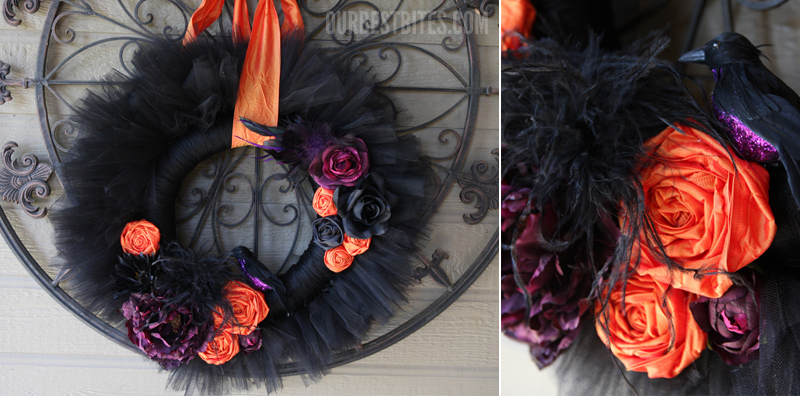 Two rows of Jack-o-lanterns guide cautious guests toward the door of this home. A soccer goal netting is draped halfway over the roof where webs are attached giving one spider a fun way to greet newcomers.
16. Skeleton Greeter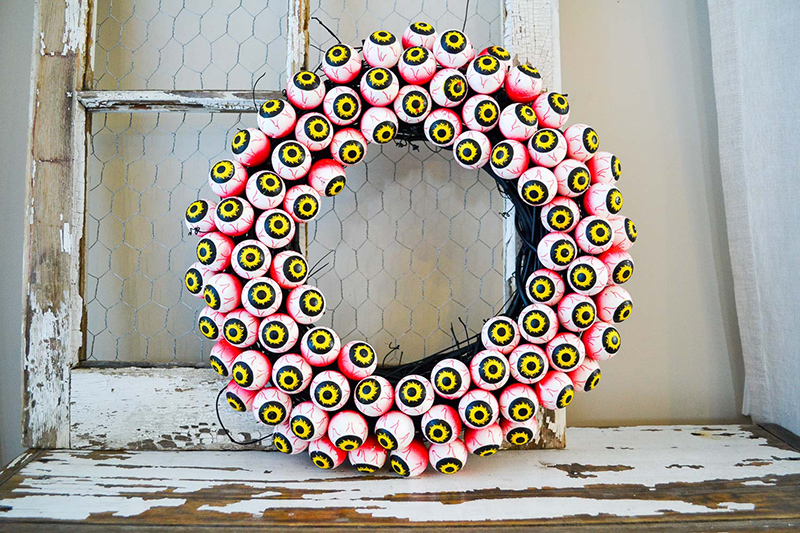 This Spooky Eyeball Wreath is a perfect addition to your Halloween decor! With just a few supplies you can make this simple & spooky wreath!
17. Pinecone Monster Halloween Wreath Tutorial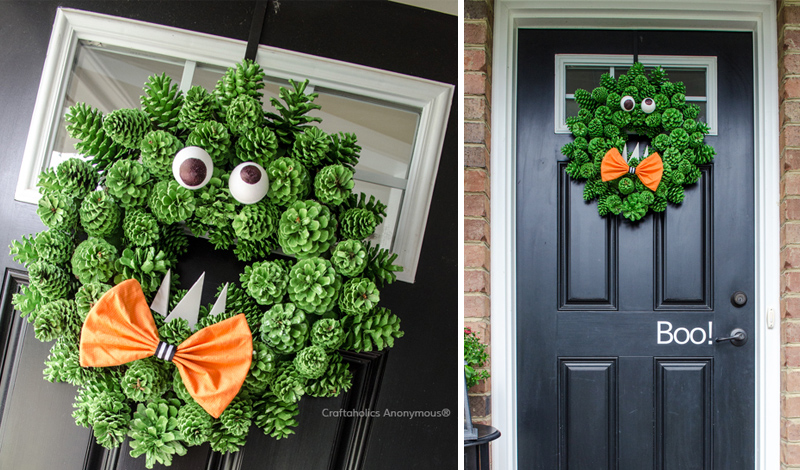 Pine cones are used for this cute googly-eyed monster wreath. This would be a perfect way to welcome guests to your house this Halloween! A good plus for this design is that it won't scare the kids.
18. Halloween Mason Jar Lid Wreath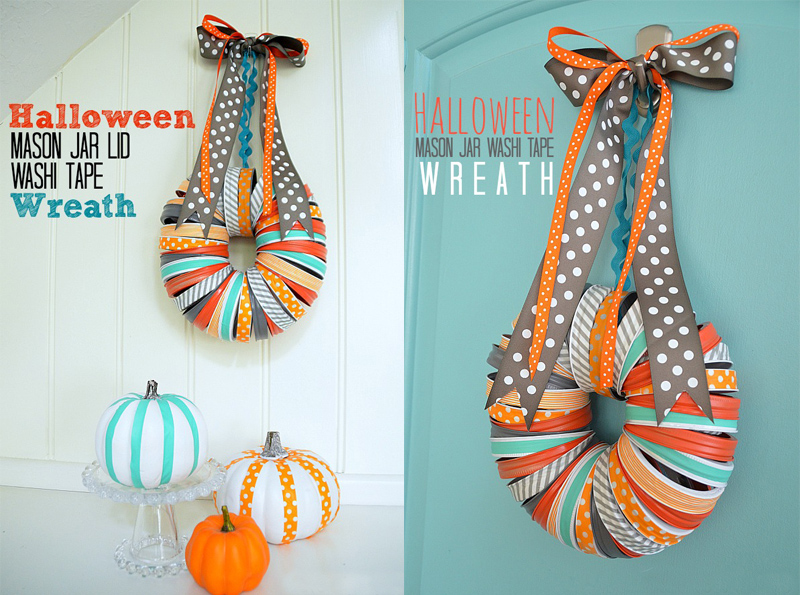 Gather some canning lids then wrap each one with different patterns of washi tape. Then put them together to create this beautiful wreath!
19. Spiders Fall Wreath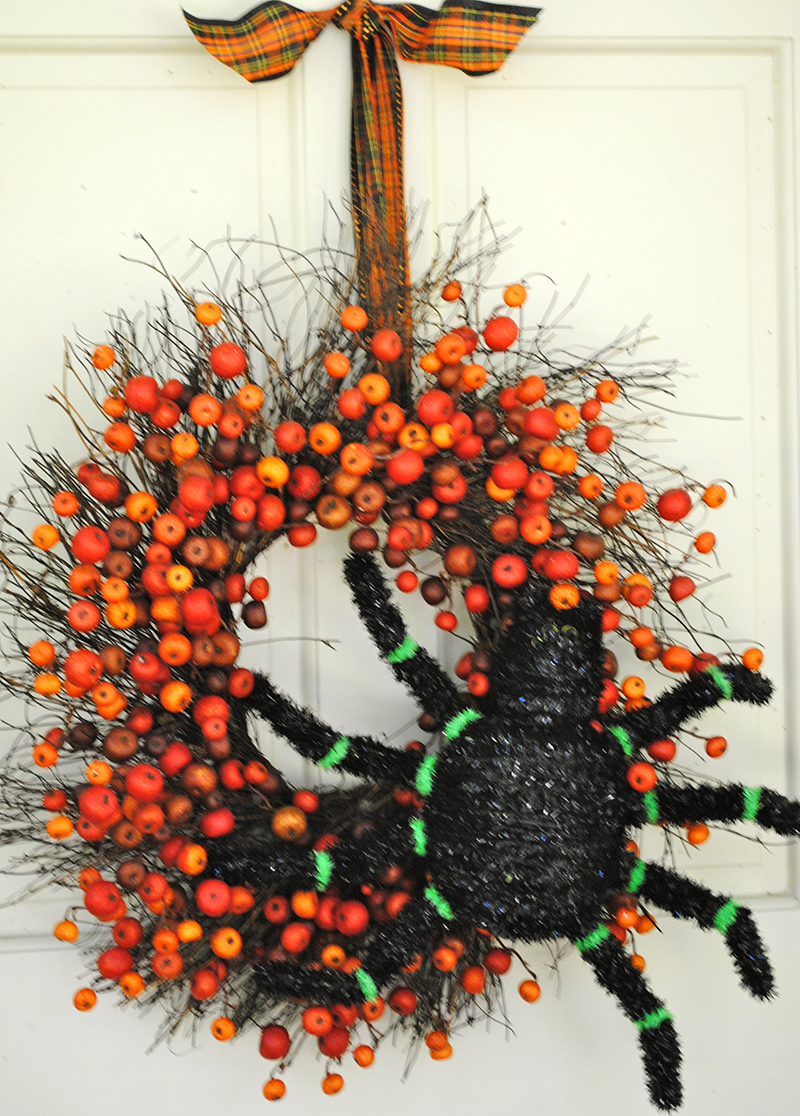 Find a pretty fall berry wreath at any local craft store. Simply wire a "spooky" spider on to the wreath and then hang it with a cute fall wire ribbon.
20. Easy Halloween Wreath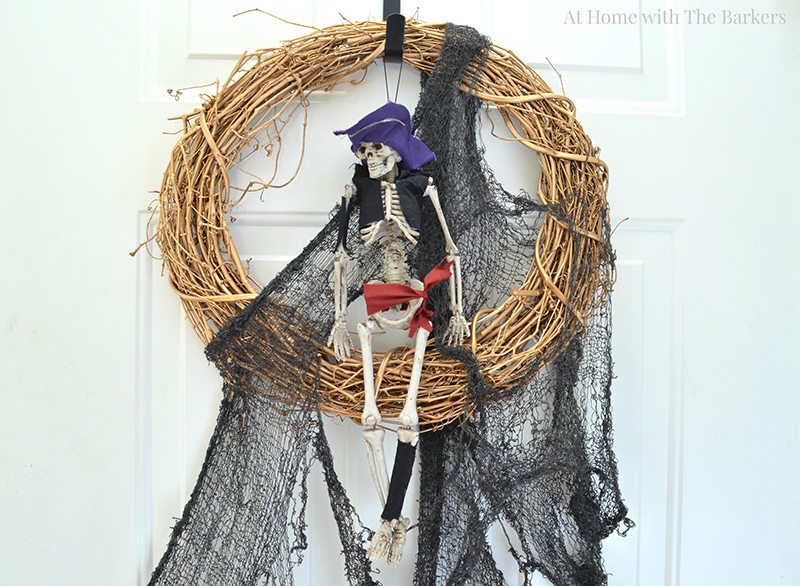 Grapevine wreaths are very versatile for any season decor and very budget friendly. That is why the designer used it for this wreath. After Halloween, it can actually be used for other wreath designs in a different occasion.
These Halloween wreaths are so lovely! It is nice that they come in different ideas which you can make using materials that you have at home. You can also try to reuse old wreaths and redecorate them. You just need to be creative so you don't have to spend much for it. Once you have your wreath done, decorate the rest of your porch using these Halloween porch design ideas! For sure, you will think of something that will look great for your home.
from wildecom builders feed https://homedesignlover.com/home-decoration/diy-halloween-wreath/